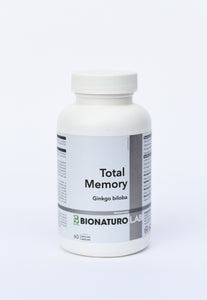 Total Memory (Ginkgo biloba QCE 3000mg)
The extraordinary combination of Ginkgo Biloba and antioxidants is  designed to improve cognitive function and memory by accelerating blood circulation / improving microcirculation) . Green Tea Extract (its active component Epigallocatechin Gallate (EGCG)) strengthend the walls of blood vessels and reduces the level of «bad» blood cholesterol.
Green Tea Extracts (Camellia Sinensis, leaf, 50% EGCG) 80 mg
Ginkgo Biloba (Leaf, 24% Flavonoid glycosides, 6% Terpene Lactones, 50:1 QCE: 3000 mg) 60 mg
Grape Seed Extract (Vitis Vinifera, seed, 80% OPC) 100 mg
Adults: Take 1 capsule 2 times per day with food
Manufactured in a GMP-certified pharmaceutical laboratory.
---
We Also Recommend