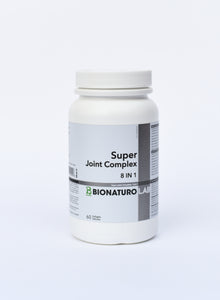 Super Joint Complex 8-in-1
Helps to relieve joint pain and inflammation associated with osteoarthritis. Helps to protect against the deterioration of cartilage. Helps in the development and maintenance of bones and teeth. Calcium intake, when combined with sufficient vitamin D, a healthy diet, and regular exercise may reduce the risk of developing osteoporosis. Helps with the absorption and use of Calcium and Phosphorous. 
Contains natural water-soluble Glucosamine sulfate in the form which is naturally found in the human body, in the synovial fluid that surrounds the joint. Chondroitin sulfate has a low molecular weight fraction, which optimizes its absorption in the gastrointestinal tract. Contains Hydrolyzed Collagen with high content of L-glutamine and free amino acids.
Glucosamine sulfate (Crab, Lobster-Exoskeleton) 500 mg
Chondroitin sulfate (Bos Taurus-Cartilage) 50 mg
Devil's-claw (Harpagophytum Procumbens, root) 20 mg
Hydrolyzed collagen (Gallus Gallus-Cartilage) 20 mg
MSM (Methyl Sulfonyl Methane) 50 mg
Shark Cartilage (10.0% Calcium) 20 mg
Calcium (Calcium Carbonate) 20 mg
Vitamin D (Cholecalciferol) 1.25 mcg (50 IU) 
Adults: Take 1 soft gel capsule 3 times per day
Manufactured in a GMP-certified pharmaceutical laboratory.
---
We Also Recommend