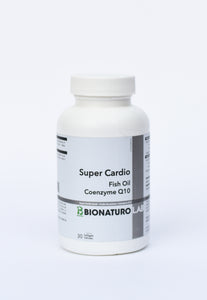 Super Cardio 1000 mg (Coenzyme Q10)
A combination of natural ingredients clinically proven to reduce the risk of cardio-vascular disease. CoQ10 is the most important coenzyme needed for energy production and  protection of heart cells from oxidative stress. Contains a high-quality Fish oil (high in EPA and DHA).

Ingredients: 
Coenzyme Q10 (2,5-Сyclohexadiene-1,4-dione in oil) 100 mg
Fish Oil (Salmonidae – Whole) 900 mg

Eicosapentaenoic Acid (EPA) 162 mg
Docosahexaenoic Acid (DHA) 108 mg
Adults: Take 1 capsule daily
Manufactured in a GMP certified pharmaceutical laboratory.
---
We Also Recommend