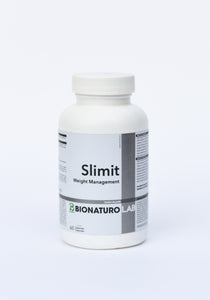 Slimit Weight Management
 The philosophy of this complex is aimed at burning fat by speeding up metabolism and simultaneously reducing appetite under the protection of antioxidants. The main group of ingredients of this complex (Green Tea Extract, Caffeine and Green Coffee Bean Extract), due to the effects of caffeine, catechins and chlorogenic acid, blocks the release of glucose and thus accelerates the metabolism and fat burning (especially in the liver). African mango suppresses appetite.
60 capsules.
Ingredients: 
Green Tea Extract (Camellia Sinensis, 30% Catechins, 50% Poliphenols, 8% Caffeine, 15% Epigallocatechin-3-gallate (EGCG) 4:1 QCE: 1280 mg) 320 mg
Caffeine (1,3,7-Trimethylxanthine) 20 mg
African Wild Mango (Irvingia Gabonensis, 10:1 QCE: 300 mg) 30 mg
Dandelion (Taraxacum Officinale, root, 10:1 QCE: 300 mg) 30 mg
Ginger (Zingiber Officinale) 40 mg
Grape Seed Extract (Vitis Vinifera, 25:1 QCE:1000 mg) 40 mg
Green Coffee Bean Extract ( Coffea Arabica, Seed, 2% Caffeine, 45% Chlorogenic Acids, 5:1 QCE:100 mg) 20 mg
Adults: Take 1 capsule 3 times per day, take with food
NPN 80060884
Manufactured in a GMP-certified pharmaceutical laboratory.
---
We Also Recommend