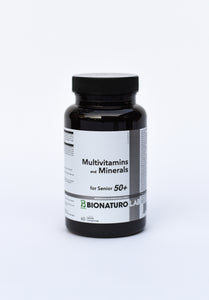 Multivitamins and Minerals for Senior 50+
One of the most complete multivitamin and -mineral formulas -31 ingredients - 14 vitamins /provitamins and 17 minerals). Contains a two-month supply.
This encapsulation with a specially designed dissolution rate ensures an effective delivery of nutrients in people with sluggish digestive systems  and impaired absorption dynamics.
Vitamin A Palmitate 1209 mcg RAE
Beta-Carotene 1500 mcg
Vitamin D Cholecalciferol 5 mcg 200 IU
Vitamin E Alpha Tocopherol 10 mg AT
Vitamin C Ascorbyl Palmitate 60 mg
Vitamin B1 Thiamine Diphosphate 1.4 mg
Vitamin B2 Riboflavin 1.6 mg
Vitamin B5 Pantothenic Acid 6 mg 9-Vitamin B6 Pyridoxal Hydrochloride 2 mg 10-Vitamin B12 Cyanocobalamin 2.4 mcg
Vitamin B9 Folic Acid 360 mcg
Vitamin B7 Biotin 150 mcg
Vitamin K1 Phytomenadione 30 mcg
Vitamin B3 Niacin 15 mg
Zinc Citrate 15 mg 16-Iron Phosphate 14 mg
Calcium Carbonate 162 mg
Iodine Potassium Iodide 150 mcg
Magnesium Carbonate 100 mg
Phosphorus Calcium Phosphate Dibasic 125 mcg
Copper Calcium Edetate 2 mg
Chromium 3 Sulfate 25 mcg
Manganese 2 Chloride 2.5 mg
Molybdenum 6 Ammonium 25 mcg 25-Potassium Bicarbonate 40 mg
Selenium Monohydrate 25 mcg 27-Silicon Dioxide 1.8 mg
Inositol Dihydrate (B8) 50 mg
Choline Bitartrate (B4) 100 mg
DL-Methionine 100 mg
Cobalt (Hydroxo) 1 mcg
Adults: Take 1 tablet 1 time per day
Manufactured in a GMP-certified pharmaceutical laboratory.
---
We Also Recommend