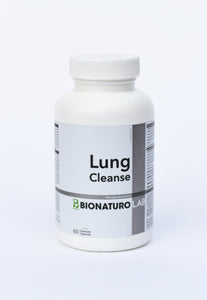 Lung Cleanse
Hyssop, Thyme, Fenugreek, Ginger act as expectorants. Relieves bronchitis symptoms, reduces cough, reduces local inflammation. Mullein relieves spasms of the upper respiratory tract, helps relieve symptoms in asthma and tuberculosis. N-Acetil-L-Cysteine - mucolytic, prevents bacterial adhesion and dissolution of the matrix of the protective biofilm of the upper respiratory tract.
60 capsules.
Ingredients: 
Hyssop (Hyssopus Officinalis, leaf, 10:1 QCE:1000mg) 100 mg
N-Acetil-L-Cysteine 200 mg
Thymus Vulgaris (Leaf, 4:1 QCE:400mg) 100 mg
Fenugreek (Trigonella Foenum seed,10:1 QCE:1500mg) 150 mg
Mullein (Verbascum Thapsus, leaf) 100 mg
Ginger (Zingiber Officinale, 4:1 QCE:200mg) 50 mg
Vitamin C 50 mg
Adults: Take 1 capsule 3 times per day 
NPN 80049077

Manufactured in a GMP- certified pharmaceutical laboratory.
---
We Also Recommend