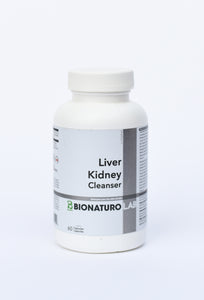 Liver Kidney Cleanser
Traditionally used in Herbal Medicine to help remove accumulated waste products via the kidneys, skin, and mucus membranes. Source of antioxidants for the maintenance of good health. Helps to support liver function. 
Traditionally used in Herbal Medicine as liver protectant. 
Offers comprehensive recovery strategy for the liver and kidneys along with multi-level antioxidant protection. Restores the function of the liver and actively cleanses (washes) the kidneys and the bladder. Features 80% Silymarin, two types of vaccinium and burdock root concentrate.
60 caps 
Ingredients: 
Resveratrol (Reynoutria Japonica root) 300 mcg
Lycopene (Solanum Lycopersicum, Fruit flesh) 5 mg
Burdock (Arctium lappa, Root) (10:1, QCE:1000 mg) 100 mg
Lycium Barbarum (Fruit Goji Berries ) (10:1, QCE:200 mg) 20 mg
BeePropolis (Apis mellifera) 20 mg
Milk Thistle (80% silymarin) 100 mg
Vaccinium Angustifolium (Blueberry Fruit) (20:1, QCE:200 mg) 10 mg
Vaccinium Myrtillus (Bilberry) (20:1, QCE:200 mg) 10 mg
Vitis Vinifera (Grape seed extract, 85% Oligermic Proanthocvanidins) (25:1, QCE 2500 mg) 100 mg
Vitamin C 30 mg
Adults: Take 1 capsules 2 times per day
Manufactured in a GMP-certified pharmaceutical laboratory
---
We Also Recommend