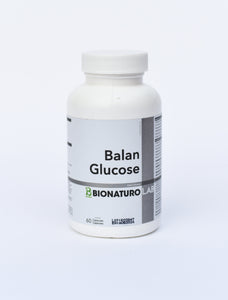 Balan Glucose
Balan Glucose by BIONATURO LAB is the latest natural complex to support healthy glucose metabolism. Product is formulated according to the latest recommendations in the field of natural medicine. In addition to the main function - the balance of carbohydrates (primarily glucose), Balan Glucose helps to improve the metabolism of fats and proteins.
1- Chromium (Chromium (III) Picolinate)  200mg
2- DL- Tioctic acid (DL Alpa-Lipoic acid)  50mg
3- Glucomannan (Amorphophallus konjac - Tuber)  200mg
4- American ginseng (Panax quinquefollus, Root)  100mg
5- Bee propolis (Apis mellifera- Secretion)  50mg
6- Vitamin C (Ascorbic acid)  50mg
There are three main components: Chromium picolinate, Alpha-Lipoic acid, and Amorphophallus. This combination not only maintains a healthy glucose balance but also promotes weight loss. Special macromolecules monomers improve the state of intestinal flora, give a feeling of fullness in the stomach, and suppress the feeling of hunger. Another ingredient, Chromium picolinate, helps fight insulin resistance and reduce sugar cravings.
The recommended dosage of Balan Glucose is 2 capsules once a day.
Manufactured in a GMP-certified pharmaceutical laboratory.

---
We Also Recommend