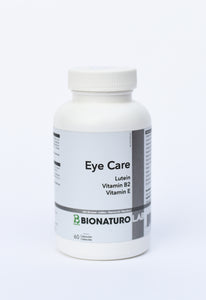 Eye Care (Lutein, Lycopene)
Uniquely designed formula where all the components work in synergy and enhance each other's action to support eye health .  Includes highly bioavailable Lutein - most important component of the visual pigment. In addition, this product combines a powerful vitamin-mineral complex with Lycopene, which not only restores and protects the eyes but also contributes to the rejuvenation and restoration of the skin and hair.

60 caps 
Ingredients: 
Lutein (Tagetes Erecta – flower) 5 mg
Lycopene 2.5 mg
Beta-Carotene 750 mcg RAE
Copper (Cupric Gluconate) 1 mg
Vitamin B2 (Riboflavin) 10 mg
Selenium (Sodium Selenite) 25mcg
Silicon (Sodium Metasilicate) 10 mg
Vitamin A (Vitamin A Palmitate) 750 mcg RAE
Vitamin E (D-Alpha TocopherylAcetate) 25 mg AT
Zinc (Zinc Citrate) 20 mg
Vitamin C 150 mg  
Adults (min 19 years) Take 1 capsule 2 times per day
Manufactured in a GMP certified pharmaceutical laboratory.
---
We Also Recommend