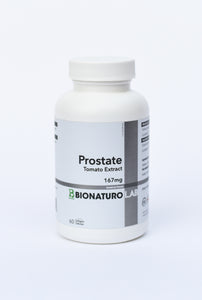 Prostate (Tomato Extract)
Contains a complete set of biologically active substances extracted from the tomato (including lycopene of highest bioavailability). Helps to improve prostate health, reduce blood pressure, and may protect against cancer and cardiovascular diseases. Lycopene can slow cell proliferation as a signaling metabolite that slows the development of benign prostatic hyperplasia.
Solanum Lycopersicum (Tomato Extract, Fruit Flesh)
Full-spectrum of fresh tomato bioflavonoids 167mg (Lycopene 10.0 mg)
Adults: Take 1 capsule 1-2 times per day
Manufactured in a GMP-certified pharmaceutical laboratory.
---
We Also Recommend