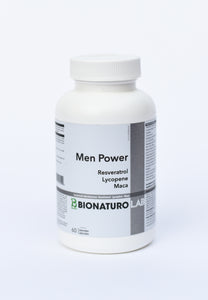 Men Power
High-quality antioxidant formula for the maintenance of male health. Natural aphrodisiac. Contains highly concentrated Epimedium Drevikornum (equivalent to 670 mg of dry extract) - the closest herbal analog of the popular prescription medication for the treatment of erectile dysfunction but without side effects. 
Resveratrol (Reynoutria Japonica, root) 100 mcg
Quercetin (Pentahydroxyflavone) 50 mg
Lycopene (Solanum Lycopersicum, fruit flesh) 1mg
Coenzyme Q10 30 mg
Epimediuma Drevicornum (Leaf,10:1 QCE:670 mg) 67 mg
Ganoderma Lucidum (Fruit, 20:1 QCE:400 mg) 20 mg
Maca (Lepidium Meyenii, root) 335 mg
Lycium Barbarum (Fruit Goji Berries 10:1 QCE:50 mg) 5 mg
Panax Ginseng (Root, 5:1 QCE:300 mg) 60 mg
Propolis (Apis Melifera-Secretion) 10 mg
Rhodiola Rosea (Whole, 30% Rosavin) 5 mg
Shisandra Chinensis (Fruit, 10:1 QCE:150 mg) 15 mg
Blueberry (Vaccinium Angustifolium, 20:1 QCE:100 mg) 5 mg
Bilbery (Vaccinium Myrtillus, 20:1 QCE:200 mg) 10 mg
Grape Seed Extract (Vitis Vinifera, 85% proanthocyanidins) 30 mg 
Adults: Take 3 capsules 3 times per day
Manufactured in a GMP-certified pharmaceutical laboratory.
---
We Also Recommend