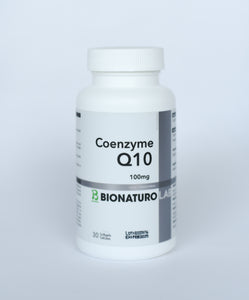 Coenzyme Q-10
30 Softgels
Coenzyme Q-10 is one of the most important components of the energy cycle in the human body.
CoQ 10 by BIONATURO is synthesized from fresh leaves of special annuals in the Solanaceae family by a process called the Solanesol process. Compared to the regular technology using bacteria for the enzymatic processes, Coenzyme Q-10 obtained from the leaves boasts a higher optical purity.

Adults: Take 1 capsule 2-3 times per day.  
Ingredients:  CoQ-10 (Coenzyme Q10 (Synthetic Solanesol process))  100mg 
 NPN 80016128
Manufactured in a GMP-certified pharmaceutical laboratory
---
We Also Recommend